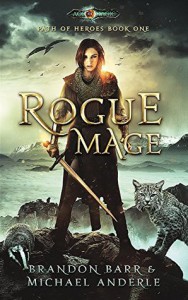 Rogue Mage by Brandon Barr and Michael Anderle is the first book in the Path of Heroes Series. Payetta wants revenge on Titannus, the mage who killed her family and destroyed her village.

Plot 3/5: Trope plot.

Characters 3/5: I just couldn't get into the characters. The main character could have used more growth. She became quite monotonous.

World building 3/5: Not much detail of the setting.

Pacing 4/5: Steady with bouts of action.

Writing 4/5: Decent writing.

Overall 3.4

Not what I'm use to from Brandon Barr.

Purchased from Amazon.